Changing the hour meter reading at Caterpillar
How is it possible to edit the hour meter on my CAT machine? Is there a possibility to change hour reading on the ECM or ECU of the machine? Can I do this with the CAT Electronic Technician? Will it be possible to see the attempt to change the hours?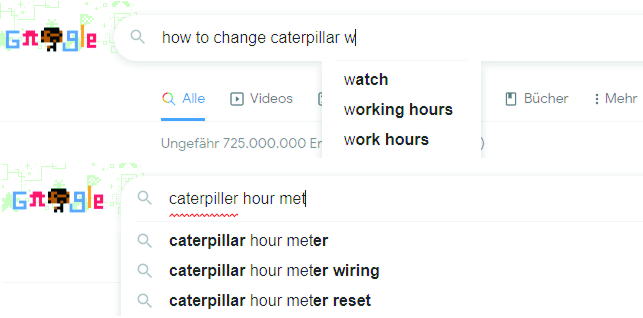 Do I need a factory passkey?
Some interesting questions, do you agree? I wonder why someone is asking Google for it. Does he want to betray a potential buyer? Some forums are full of those questions. Obviously many people have an interest to reduce the hour meter reading.
If you go to Google and start a search Google-Instant will show you the most relevant entries. It means Google proposes what many others are looking for. The screenshots I made are shoing there is a high interest in this issue. Most relevant search is Caterpillar Hour Meter Reset 🙁
How can you avoid to become a victim of hour meter fraud?
The answer is easy. Send a professional inspector to check the machine on your behalf before you purchase it. I will keep this post updated how many clicks it got from the Google search. It will show how many people are looking for this topic.
Ist it possible and legal to change the hour meter reading?
Yes, it is technically possible to change the service hour meter reading on a used heavy machine. However, it is illegal in many jurisdictions as it involves tampering with the machine's records, which could be considered as fraud or misrepresentation.
In some countries, tampering with hour meter readings is a serious violation of the law and can result in heavy fines or even imprisonment.
It is always recommended to buy used heavy equipment from a reputable source and have a thorough inspection performed by a professional inspector to ensure accurate hour meter readings and the overall condition of the machine.