Inspection, valuation & appraisal for machinery. Expertise since 2006
We inspect construction machinery of all kinds professionally and independently. Technical analysis and value appraisals. Expert opinion before purchase or after damage.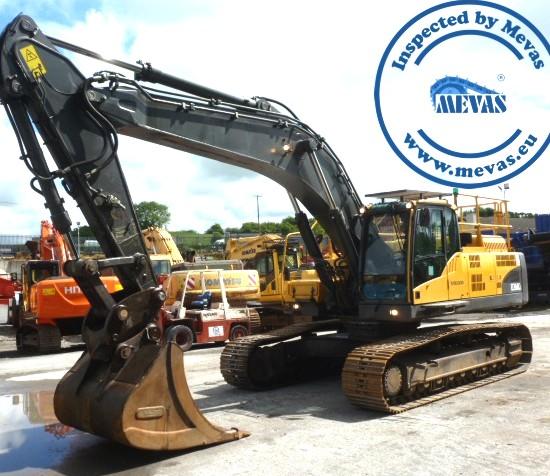 Inspections of excavators, wheel loaders, bulldozers and articulated haulers. We know about scrapers, diggers, drill rigs, piling equipment, mining machinery and all kind of earthmovers.
Inspectors for Mobile and Crawler Cranes, Fork-lift Trucks, Tower Cranes, Reach Stackers. We check all kind of lifting gear. Service available in more than 25 countries. Give us a call for more info and pricing.
Do you want to purchase a paver, compaction equipment, motor-grader, road truck, quarry trucks, concrete pumps or other special equipment? Get it inspected before you buy.
At MEVAS, we pride ourselves on providing top-notch inspection services for used heavy machinery in over 25 countries. Our team of international technicians is dedicated to providing pre-delivery inspections and appraisals, ensuring that our clients receive the best quality service. As the leading equipment inspection service in Europe, we have been inspecting second-hand machines since 2006.
Get a commission for connecting us with a new customer
Unbiased inspections for heavy machinery
Our growing team of experts is committed to providing unbiased inspections, carried out by an independent third party, to give our clients peace of mind when making their purchase. With our years of experience and expertise, we are confident that we can provide the best possible service to our clients, ensuring that they receive a comprehensive report on the condition of the machinery they are considering. Trust MEVAS to provide you with reliable and accurate inspections for your used heavy machinery needs.
Standardised reports at "TA-1 plus" level
Receive a detailed inspection report from a 3rd party before you pay for a used machine. It costs less than replacing a damaged hydraulic cylinder. Our inspectors follow our high standards and are trained in used machinery testing. We inspect many kind of used heavy machinery such as:
track excavators, mobile excavators & demolition machinery
wheel loaders, telescopic loaders & backhoe loaders
bulldozers, tracked loaders, scrapers & wheel dozers
motor-graders, road reclaimers & compaction rollers
paver asphalt, cold planners & milling machines
drilling rigs, piling equipment & civile engineering machines
cranes, forklifts and reach stackers, container handlers
mining trucks, quarry trucks, blasthole drills, mining excavators
Our customers
Mevas inspects used machinery since 2006. Read more details about the team. Amongst our customers are some larger players in the construction and mining industry. We work i.e. for MIBRAG, some major Komatsu dealers, Arcelor Mining, Caterpillar Financial, Zeppelin Baumaschinen, Equippo, Mantrac, Finanzauto or Bavaria-Swiss AG.
Equipment valuation & machinery search
Our team and our management is available for valuation or appraisal. We assess a single machine or an entire fleet. On request, we can provide information on larger construction machinery assessment projects that we have successfully completed. We can even send four or five inspectors at the same time.
On-screen valuation
In some cases an on-screen-valuation may be enough to determine the residual value of a construction machine. We can provide such evaluation for a small fee. No subscription required. Valuations are done by humans and not only consulting a database. Read more on our page about online valuation for heavy machinery.
How to order an inspection
Have a look to a short YouTube video explanation how to order an inspection by Mevas.
Do we have used heavy equipment for sale?
If you are looking for used equipment we can't help because we do not trade with machines. However, you can have a look at www.used-equipment.de as a start for your search. We made this page as a support for those who are looking to buy machines. Be sure you won't get scammed. Read more about the safe way to purchase used equipment.
Mining equipment appraisal
If you are facing a change in contractor for your quarry or open pit mine, you may find that a valuation of your assets is necessary. In such cases, it is important to have a team of experienced professionals who can accurately and fairly assess the value of your equipment and machinery in a way that is negotiable and effective.
At our company, we have the expertise and experience to help you through this process. Our team of skilled professionals has a proven track record of successfully completing larger mining and construction fleet appraisal projects, ensuring that our clients receive a thorough and reliable assessment of their assets.
Caterpillar® TA-2 level inspections
In our team we have some engineers who have been working with a Caterpillar dealer for many years. On request we can provide machinery inspections at the level of a TA2 including PSR download, oil sampling, filter cut and taking cycle times. We inspected so far machines up to a size of CAT 994, 777 and excavators up to CAT 6030.
Fleet Valuations
In the past, we have implemented various machine evaluation projects. Well over 150 machines were inspected and evaluated in a short time. Depending on the customer's requirement, we either only provide condition reports or we also add the residual value of the machine.
Partnering with LECTURA now
We just started a partnership with LECTURA for valuations. LECTURA cooperates with us as their inspection partner for machinery on-site inspections for valuation.