Free pre-operational checklist for machinery operators
Do you know what to check at the machine before you start working? We have a free checklist for heavy equipment operators. You can use it to make sure, that you do not forget to check important items. You can download it here.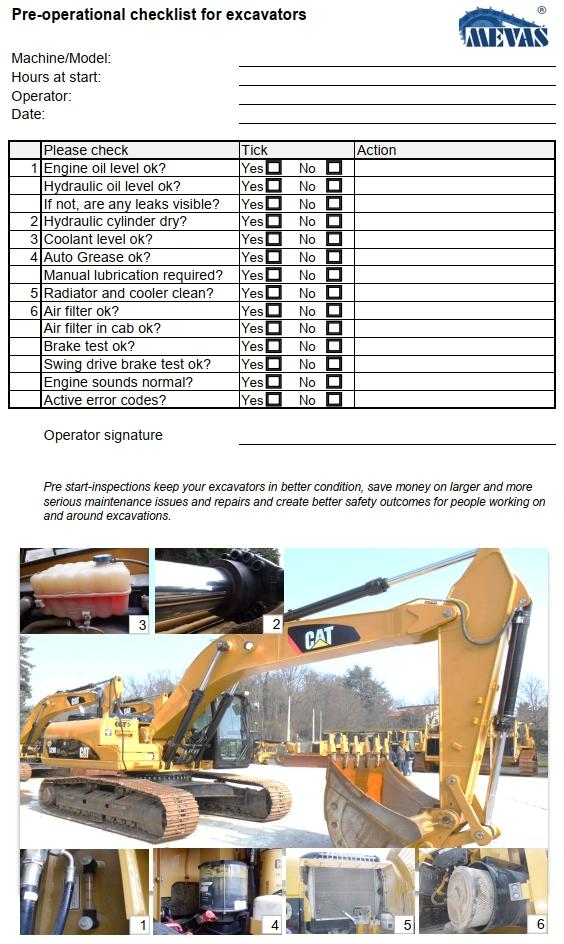 What should the operator of an excavator or wheel loader check before he starts machine at begin of his shift?
Before starting an excavator or wheel loader at the beginning of a shift, the operator should perform a pre-operational inspection to ensure the machine's safety and readiness for work. The following is a general guideline of the items to be checked:
Fuel and oil levels – Check that there is enough fuel and oil to run the machine for the shift and top up if necessary.
Engine performance – Start the engine and check that it runs smoothly, with no unusual sounds or vibrations.
Hydraulic system – Check for any leaks in the hydraulic system and verify that all hydraulic components are functioning properly.
Tires – Check the tire pressure and inspect for any damage or excessive wear.
Lights and alarms – Check the machine's lights, alarms, and warning signals to ensure that they are functioning properly.
Control systems – Ensure that all control systems are working correctly and that the operator has full control of the machine.
Attachments – Inspect all attachments, such as buckets or hammers, to ensure that they are properly secured and free of any cracks or damage.
Safety features – Check the seatbelt, rollover protection system, and other safety features to ensure that they are working correctly.
By performing a pre-operational inspection, the operator can identify any potential issues with the machine before starting work, which helps to prevent accidents, equipment damage, and costly downtime.