What is included in a basic inspection
When we inspect a machine on your behalf, you receive an inspection report that is specially designed for this type of machine. The checklist contains all important information about the machine as well as sections on all assemblies. The inspector notes information on the condition of each component and whether there are any problems. A test of the machine functions is part of the service. Either our technician carries out this test himself or we ask the seller to provide us with an operator. The written documentation on the condition of the machine comes with many pictures and a video. You will receive comprehensible information if there are any abnormalities or defects. In most cases the fee for the inspection will be in a range of 680-850 Euro, depending on machine size and location.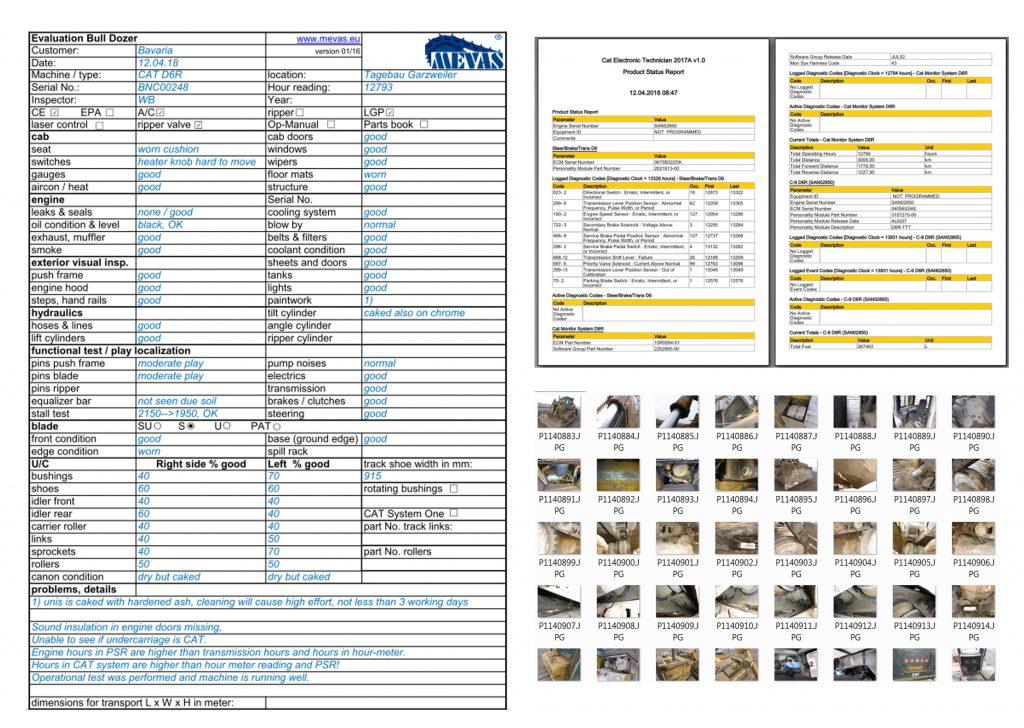 What extras can you order?
ECM/ECU read-out, 50 €: We offer the download of a PSR (Product Status Report) for Caterpillar machines and the Matris-report for Volvo machines up to the G series. Those reports provide data on the maintenance history. It allows you to verify the hours, displayed on meter and enables you to see active and earlier logged error messages.
Oil sampling (SOS), 120 € each oil: If necessary, we take oil samples to determine whether there are any unwanted residues/particles in the individual components. We send the oil samples for hydraulic oil, engine oil or gear oil to a renowned laboratory for evaluation. We will be happy to advise you on which machines and under which conditions it makes sense to take an oil sample. If you are interested, you might want to watch our short video. *Link zu Youtube-Video*
Pressure testing, 120 €: Hydraulic pressures can be measured if necessary. It is most useful to measure the pilot and main pump pressures and compare them with the factory specifications of the corresponding brand.
Cycle times measurement, 60 €: For some large machines we have reference values and offer cycle time testing as well.
Undercarriage measurement for CAT machines or Equipment with Berco tracks, 80 €: To get an info about real condition of chains, rollers, idlers and sprockets of a bulldozer undercarriage it is better to measure it instead of just estimating the remaining life. Most MEVAS inspectors are trained to perform the measurement according to the guidance of CAT. Our engineers carry the required tools to measure all components. This enables us to give you a qualified info about remaining life.
Inspection level TA-1 and TA-2
Our inspections are comparable to the level which Caterpillar has etablished as TA-1 and TA-2 inspections. Call us to learn more about it.
A thorough technical analysis usually pays off
Before buying a used machine, get a comprehensive overview of the technical condition of the machine from independent experts. You will benefit from our experience in the field of used machines. We look out for type-specific weak points and general signs of wear and make sure that the wear and tear corresponds to the number of hours specified.
Equipment inspection sample reports
Do you need a used heavy equipment inspection checklist? Get in touch with us for a copy of a completed report. We can share an inspection checklist on request. However, the report form allone will not help you. A qualified engineer is required to check machine condition. Only an experienced guy will see hidden problems or things which are not obvious to someone who is not working or operating with machines.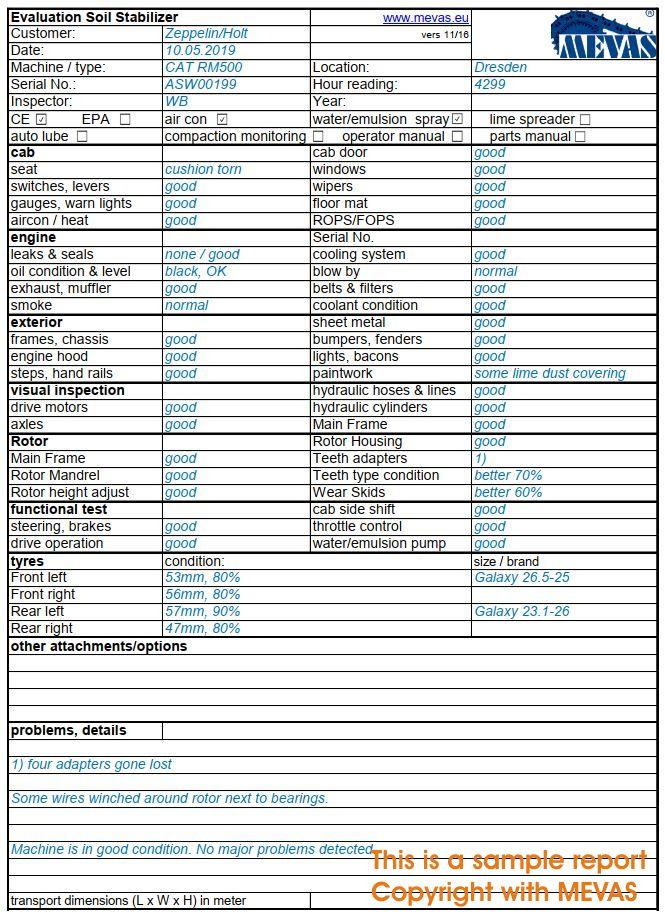 Crusher inspection checklist
Concrete pump report form
Dozer inspection checklist
Motor grader inspection report
Paver condition report form
Tracked excavator examination report
Wheel loader inspection report
Buy your inspection online
Mevas has an online shop for used machinery inspections. Once you agreed a price with the team it is possible to order and pay by credit card. In any case it is recommended to talk to Mevas first.
Free heavy machinery inspection checklist
Is there a free PDF-Checklist for used heavy equipment available? Can you download free inspection documents for bulldozer or excavator? Maybe there are such documents somewhere at the WWW. But why would someone expect to get it for free? All machinery inspection documents have been created by someone and labour was invested. So in our opinion knowledge has a value and it should be paid for the use of it.
PSI, Pre-Shipping Inspections
Another service of our company is the inspection of technical equipment, vehicles, machinery and materials before shipment. You want to be sure, all goods are fully present and safely packed? Send a MEVAS inspector. For a fair price we check at the shipper's site if all goods are present, in good condition and properly packed. Learn more about our PSI services.