Excavator swing bearing play measuring
The swing bearing is one of the weakest points in the structure of an excavator. At this point, the stable undercarriage, the so-called X-frame, is connected to the superstructure. The superstructure rotates endlessly on this pivot. On a larger excavator, you will find a counterweight weighing perhaps 15 tonnes. It balances the whole machine and is designed to keep the machine stable and balanced with the arm extended and the bucket full. On the other hand, this means that when the bucket is empty and the arm is close to the machine, the rear side of the machine is loaded.
To ensure that everything runs well, the pivot bearing, also called the slewing ring, has several lubrication points. Ideally, these are supplied with grease of the right consistency by an automatic lubrication system.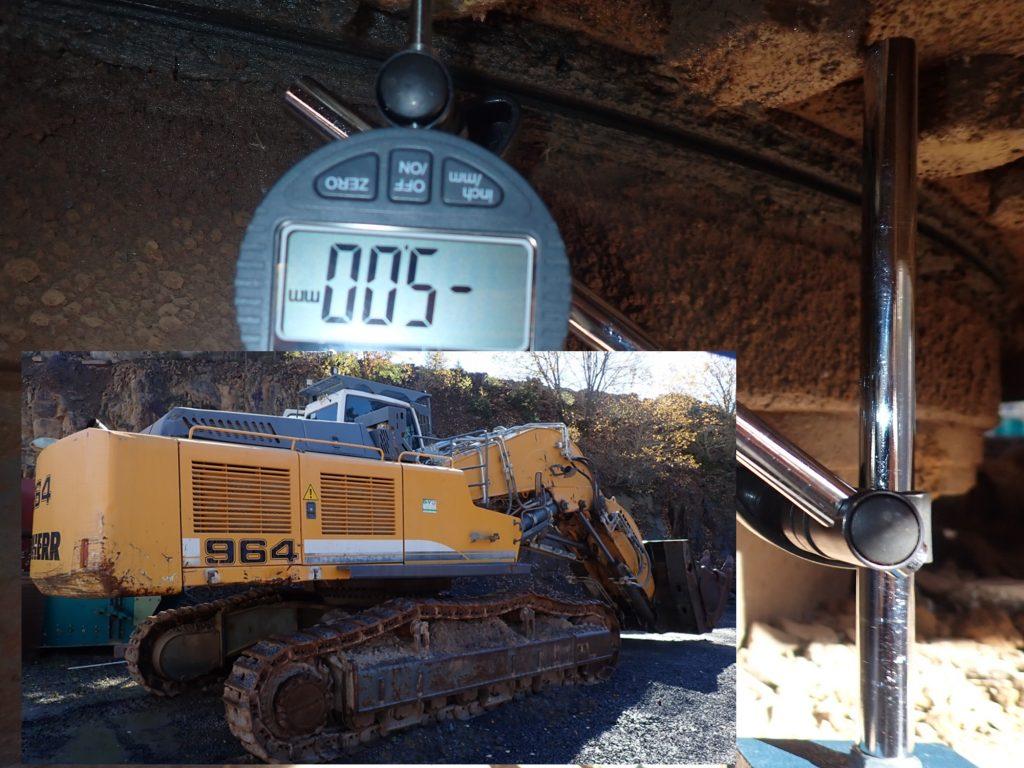 The rollers or rolls of the large bearing now run permanently over the running surfaces, generating wear through friction and pressure. At some point, the play becomes so large that machine safety is endangered. When inspecting a used excavator, it therefore makes sense to measure whether the play is still within the permissible tolerance.
How to measure?
To do this, the slewing ring must be loaded once and then unloaded again after the dial gauge has been placed on it. The play is measured between these two states. Most inspectors for construction machinery know the procedure. Depending on the equipment of the machine, one must decide whether a filled excavator bucket is sufficient to achieve the load on the front, or whether additional weights are required. Also the use of a hydraulic jack can be considered.
When to measure, cost for replacing?
Our inspectors have the necessary knowledge to carry out a measurement correctly. During used machine inspection process the inspector does a functional test. Experienced technicians can feel already at this stage if a measurement is required. After the measurement, we can help to decide whether the play is acceptable or whether you need to replace the slewing ring. The Liebherr R964 excavator pictured above had 5mm clearance across the front of the frame and 4.7mm across the side. It is not safe to continue working with this slew ring. Exchange will cost probably more than 12.000 $